Pacific Podiatry provides a wide range of ankle and footcare podiatry services in Narrabeen.
We are a long established caring podiatry practice which embraces the latest technology and combines science with experienced, hands-on caring accredited podiatrists and support staff. We would love to see you and your feet. No referral necessary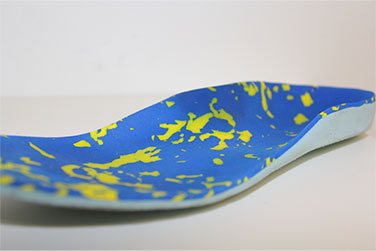 Prescription Orthoses
An orthoses , commonly called  an orthotic, are specially designed shoe inserts that help support the feet and improve foot posture. The function of the orthotic is to change abnormal pressure around the joint axis and therefore reduce stress on tissues.
At Pacific Podiatry we can prescribe many different types of orthoses from soft to semi-flexible /hard. The orthoses are custom made and designed to change foot posture and reduce symptoms the patient may be experiencing. A biomechanical assessment will be carried out by a qualified podiatrist and from the findings an orthoses will be prescribed with activity levels and footwear in mind. At Pacific Podiatry we use 3D scanned orthoses which can be modified with ease.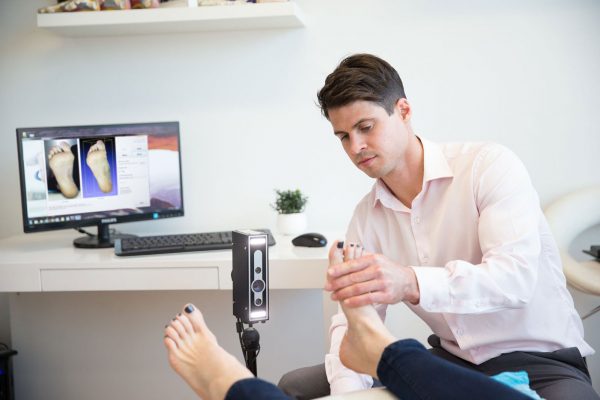 Biomechanical Assessment
A gait analysis is a method used to assess the way we walk or run to highlight biomechanical abnormalities. At Pacific Podiatry we use the Zebris Gait analysis System. It uses a treadmill with a force plate underneath to measure how much force you exert on the ground whilst exercising , the digital camera then analyses the angle at the back of the leg to ensure correct biomechanics is occurring.
A report is produced to illustrate differences between the limbs which may be from hip, knee or ankle abnormailities. Our podiatrists also carry out a full biomechanical assessment which will study joint motion and muscle strength and flexability. From these studies a program can be designed and advice on footwear and possibly an orthoses.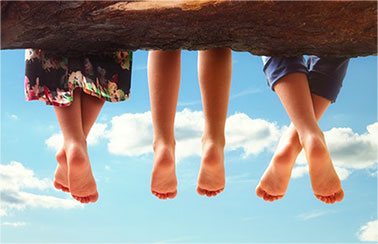 Children's Feet
Children's feet differ from those of adults, as they are not fully formed. If you notice abnormal patterns with your child , have your child's feet assessed. A perfect time is before school shoes are worn. Children may develop abnormal walking patterns such as in-toeing(pigeon toed) or out-toeing and sometimes tip-toe walking.
Children develop a normal arch at 7 so if you are worried that it appears flatter than normal get their feet checked. Flat feet may also lead to postural fatigue . Pacific Podiatry podiatrists will assess your child and offer advice on footwear, exercises and possibly arch supports/orthoses.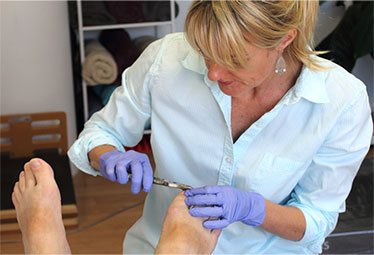 Footcare
To prevent foot problems check your feet regularly and practice good foot hygiene. Podiatrists treat corns and calluses on the feet which are caused by abnormal pressure . This can be caused by abnormal biomechanics, incorrect fitting footwear and toe deformities.
A general footcare assessment and treatment will involve the Podiatrist assessing why the problem is occurring, debriding the corn or callus and providing padding to the area. Advice will also be given on how to care for the feet on a daily basis.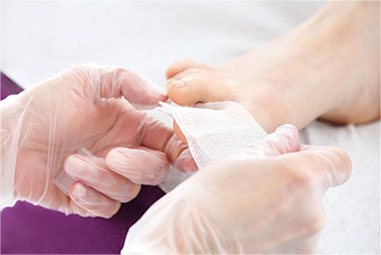 Nail Surgery
Sometimes with conservative care the nail unfortunately continues to ingrow. If this is the case the Podiatrist will advise on nail surgery. This treatment is carried out in the clinic under a local anaesthetic and the offending piece of nail is removed.
The area is then cauterized and bandaged and dressed. Most people experience little pain after surgery and can return to normal activity the following day. Follow up appointments are carried out to ensure the area has healed well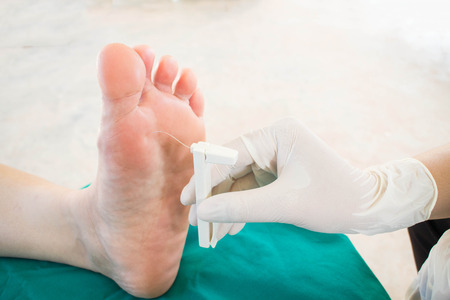 Diabetic Footcare
Your feet are at risk when you have diabetes. This condition can cause damage to the nerves in your feet, blood circulation and infection. Having diabetes can increase your risk of foot ulcers and amputations. This damage is more likely if you have diabetes for a long time, your blood glucose levels have been too high for an extended period, you are inactive and you smoke. Smoking causes a reduced blood flow to your feet and therefore wounds heal slowly. Your feet should be checked daily. At Pacific Podiatry we offer full diabetic foot treatment assessments using Doppler and provide your GP with a detailed report.
Dry Needling & Acupuncture
Acupuncture and dry needling of the lower limb complements the existing treatment modalities for common Podiatry conditions. Combined with manual therapies and orthotic therapy, acupuncture enables us to achieve great results in the treatment of both chronic and acute musculoskeletal pain.
Our podiatrists are trained in the use of traditional acupuncture for lower limb channels and dry needling myofascial trigger points and associated techniques used for trigger point release.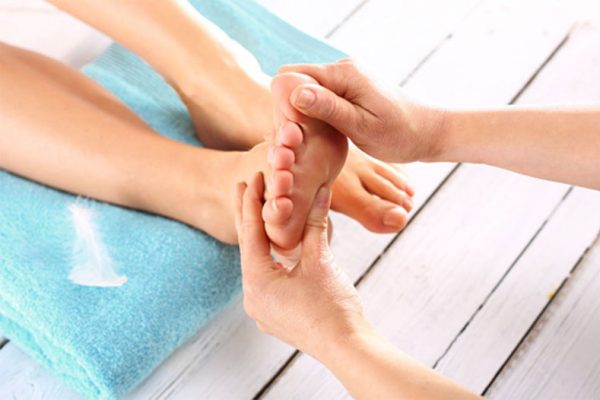 Reflexology
Andrea Downs is trained in reflexology and combines her podiatry knowledge to obtain wonderful results with foot pain.  The ancient technique of reflexology is one of the most popular and powerful non-invasive health treatments available. It is linked to the meridians used in Chinese medicine and is an extremely therapeutic way to relieve stress as well as being effective for maintaining general health and well-being.